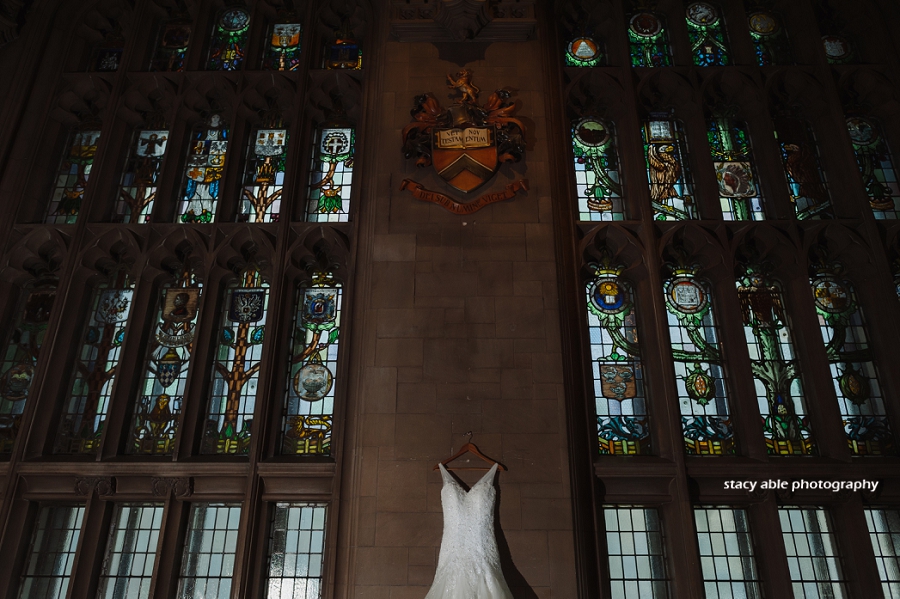 University Club Chicago Wedding: Christina and Adam
Anyone who doubts winter weddings will change their mind after viewing Christina and Adam's January 4th, 2014 wedding images. Their celebrations took place at the elegant University Club in downtown Chicago. While the weather was not playing fair with a record low temperature and snow storm on its way. The guests did not show an ounce of worry.
Christina wins the fearless bride award. After two hours hopping in and out of the trolley for bridal party portraits she grabbed a taxi to the ice rink. As the snow really began to fall, Christina and Adam walked gently on the ice rink as skaters cheered them on for some epic photos. I will admit I was nervous when the idea was brought up months back but with the snow on the ice, it was not slick at all, and I'm in love with those images! Kudos to you Christina and Adam!
After the ice ring excitement, the reception began. When Christina said she had worked at Anthropologie, I knew her wedding would be stunning. You could see her incredible style throughout the wedding. The reception room was jaw dropping beautiful with the tall centerpieces wrapped in vines, pastel florals, not to mention all her adorable accessories.
During the reception, the groom's brother, who is stationed in Afghanistan, was able to facetime his speech, leaving the room in tears. After that touching speech, the dancing began rounding out Christina and Adams perfect University Club Chicago winter wedding.
I hope to see Christiana and Adam again at future weddings as the Kuratko and Dahms family were wonderful to work with.
From the bride Christina:
Adam and I were married in what was probably considered the winter storm of the century! Many brides may disagree with me here, but the snowstorm made it all the more perfect. The old saying goes, be careful what you wish for; I wanted snow and oh did I get it.
Writing about our wedding day gives me a chance to relive what I can honestly say was the most magical weekend for Adam and me. Both of us have never felt more love than what we felt that whole weekend.  After experiencing a wedding of my own, I have realized that it is not the dress or the venue or even the flowers that make it magical–it's the outpouring of love from all your friends and family that make it unbelievable.  And everything from our rehearsal dinner, which was held at Rock Bottom Brewery downtown Chicago, to the last dance was absolutely perfect! Looking at your beautiful photos, you would never have known that the snowstorm of the century was upon us!
I asked Adam what his favorite moment was and he said it was when he first saw me. As cheesy as it sounds, I agree with him. When I first got to see Adam, it made me so happy. It calmed me down and also allowed us to say to each other, "oh ya, this is what it's all about"
The trolley ride after the ceremony was one to remember!  I think that was a favorite moment as well from both of us because we got to wind down a little bit and enjoy the day with our bridal party.  I would say the funniest moments happened on that trolley too!  Getting pizza on the way was a huge hit!  I also loved how we were able to have a champagne toast with our neighborhood bartender and friend, Ben at RJ Grunts!!!
The rehearsal was the big finale of the day.  I remember walking in to that room once our names got called and I just wanted to stop and stare!! It was absolutely gorgeous!  Walter, our florist brought my vision to life and I couldn't have been more in shock with his creative talents!!! It was such a whimsical vintage winter wonderland!  Like Cinderella, I never wanted this night to end!  Adam and I had our first dance to Santos and Johnny "Sleepwalk" and then partied the night away with all our family and friends. The room was full of love and beauty — just perfect.
Vendor Information:
Brides, maid of honor, and jr bridesmaid hair: bride's cousin Shannon Kuratko
Bridesmaids Hair: Deanna Alfano
Makeup: Brian Firkus
Brides Gown & veil:
The Dress by Nicole
Designer:
Ellis Bridal
Photographer:
Stacy Able Photography
with special thanks to assistant Katie Destry
Brides shoes: BHLDN, brand: Something Bleu
Mink coat was my deceased grandmother Kuratko. She had passed away just a year before and it was really something special to be able to have a part of her there with me. It meant a lot!
Gloves: borrowed from a good friend of my mom
Bridesmaid dresses and shoes: BHLDN
Photobooth: Fotio
Stacy Able Photography
WEDDINGS | ENGAGEMENTS | INQUIRIES | CONTACT STACY
Midwest Wedding Photographer based in Columbus Indiana/ Indianapolis and available for destinations worldwide 812.552.1007