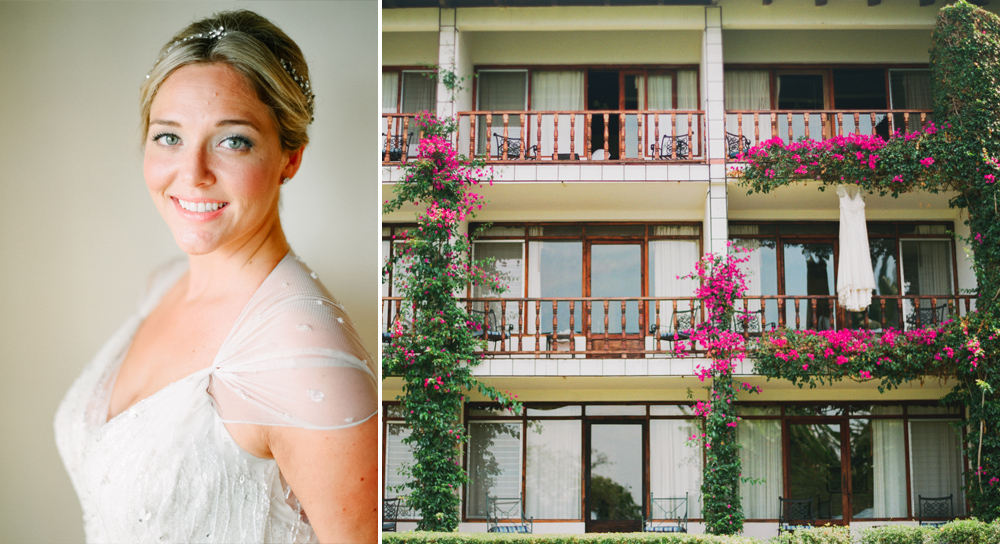 Via Style Me Pretty's front page feature "Captured by Stacy Able, this Guatemala wedding is chock-full of color and whimsy, with pretty little details everywhere you look (read: citrus chandeliers!) The day was planned by I Do, Guatemala who pulled off the Bride's vision by ending the evening with late-night tacos and a paper lantern send-off. And as for the gallery? Well, it's a total must.?
From The Bride…As soon as we got engaged, I knew exactly where I wanted to have our wedding. We had visited Lake Atitlan in Guatemala the prior year and I had fallen head over heels for the land. I've always had an affinity for anything tropical, especially banana leaves, bright florals, and all things citrus. The thought of having a wedding with a blue lake and volcano back drop, amongst giant palms, green foliage, and every bright flower imaginable just seemed dreamy to me.
The gardens and grounds of Hotel Atitlan were perfect – they even had butterflies, parrots, and peacocks roaming around. Our wedding was a destination for all 50 of our guests, half coming from the US and half coming from Europe, and we wanted to show them all the special parts of Lake Atitlan that we fell in love with. The more I experienced Guatemala throughout our trips, the more I admired their details and local native craftsmanship. I had fun creating the welcome bags for our guests and was excited at the thought that this would be their first impression and glimpse of Guatemala and the wedding weekend. On one of our planning trips we visited the town of Santa Catarina Palopó and picked a beautiful selection of hand woven, brightly patterned textiles made by the local women. Back home, my mom cut and sewed these textiles into tote bags with handles. We filled the bags with some of our favorite products of Guatemala – locally made bottles of spicy green hot sauce, a bag of Guatemalan coffee beans, and a bottle of the countries Ron Zacapa rum – in addition to a "Just in Case" emergency kit and some snacks and treats.
Our wedding day scene was filled with overwhelming plants and flowers everywhere you looked, cobblestone paths leading to each tucked away area for the ceremony and reception, Spanish style architecture in the background, and a picturesque view of the lake and volcanoes. My love for oranges and citrus worked perfectly in this setting and created a consistent theme throughout the wedding day decor. During the ceremony we offered chilled bottles of orange and lemon San Pellegrino drinks with pink striped straws. A simple floral arch of pink and white flowers and green leaves framed the view of the lake while guests looked on. For our reception dinner, we planned it at sundown so our guests could enjoy the sunset; they sat at one long rustic wood table along the lake.
For as long as I can remember, I've always envisioned a single long table for my wedding dinner as I always wanted it to feel more like a large and cheerful dinner party then anything else. White linen table runners ran down the center of the tables with white chiavari chairs lining either side. Different shades of pink roses, white lisianthus and green hydrangeas filled glass vases and bottles with lit candles placed in between. The details were important to me, even down to the salt and pepper dishes. I like simple and clean but still soft and pretty.
As I mentioned before, I also love anything citrus and I think this setting called for citrus all day long! Each place setting had a clean, crisp folded white napkin with printed menu cards tucked inside. As a name place card, we set vibrant, large oranges with green leafy stems at each seat – and nametags tied on with twine. My favorite and most anticipated of the details were the citrus chandeliers hanging over the table. Multiple circular chandeliers made of oranges and leafy greens with candles hung from long vines within the tent. These were the focal point of the tables, the feature that helped create a certain tropical-naturally beautiful-whimsical vibe to the setting; a setting which I wanted to be less formal and more pretty and fun.
With my husband being European, an after dinner espresso was a must and this was one of his few requests. We asked the owner from our favorite local café, a young and cool South Korean coffee lover, to set up an espresso and coffee bar, which was not only satisfying and delicious but entertaining too! Guests drank hand-dripped coffee out of brightly colored mini ceramic mugs that fit in with the décor perfectly.
We also had a French hipster DJ named Olivier keeping the music and dancing going throughout the night. It was a worldly and eclectic group of not only guests but vendors as well! We ended the night with a firework show that left an excited and awe-inspiring feeling for all who experienced it. Late night, we chowed down on what we've collectively agreed were "the best tacos ever" and sent off large paper lanterns into the night sky over the lake. This was the sign off to a beautiful and adventurous weekend in Guatemala for all our guests and us. Carlo and I felt so happy and fulfilled with our closest family and friends surrounding us in this beautiful place. It was simply perfect.
Vendors: Photography: Stacy Able Photography | Wedding Planner: Diana | Wedding Gown: Jenny Packham | Brides Shoes: Jimmy Choo | Bridesmaids' Dresses: J Crew | Grooms Attire: Dries Van Noten | Grooms Shoes: Paul Smith | Coffee Station: Cafe Loco | Headpiece: Untamed Petals | Invitation Suite: Lucky Penny Paperie | Wedding Gown Shop: Panache Bridals | Wedding Venue: Hotel Atitlan