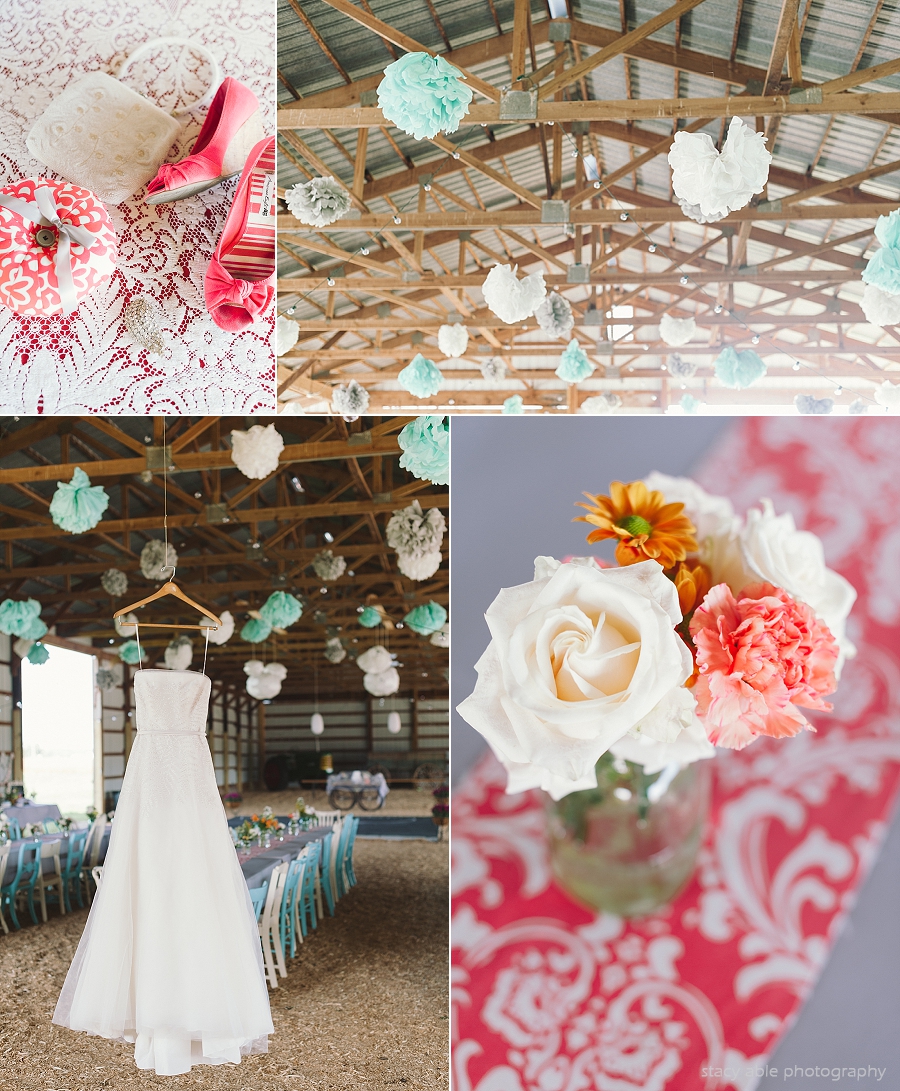 Audra & Eric | Wedding: 9.30.12 | Seymour, Indiana

From the Bride Audra: From the moment Eric took me to his grandparent's old dairy farm, I knew the large barn would be perfect for a wedding reception. We were a long way from being engaged then, but I had a feeling it would be the perfect place for us. The farm was full of family memories and because that aspect of life is important to us, we started planning the event there immediately after getting engaged. Picking the barn was easy, but the rest was full of hard work and months of cleaning/power washing, leveling dirt and sawdust, painting, and anything else that needed to be done in order for the barn and milking parlor to spring back to life. That is exactly what happened.
On Sunday, the details were coming together in the early morning and I couldn't have asked for better weather: sunny and 75. For the ceremony area just north of the barn, Eric, Keith (his dad), and I had built a pergola out of an old tool shed (built by Eric's grandfather, Earl) that had fallen over due to a storm years ago. We were married next to it and when we buy a house in the future, the pergola will be transferred to the backyard as a reminder of his grandpa and the significance of where we were married.
The barn was decorated with the help of both Eric's family and mine. We hung lights, tissue paper pom-poms, Eric and his dad made the dance floor, then his mom and I painted it with primer and chalkboard paint. My mom was landscape designer extraordinaire, packing our cars with plants and flowers to spruce up the grounds. There was so much work that went into the barn and milking parlor that I can't mention it all, but everything was worth it. It was truly a family affair in the making of our wedding and there aren't enough words to express how grateful we are for everyone's help.

Vendors:
Bride: Dress – Vera Wang White| Shoes – American Eagle  | Hair piece – etsy AgingBeautyBoutique | Groom: Suit – Banana Republic | Shoes – ALDO. Tie/Suspenders – etsy MeandMatilda | Floral: Corsages/Boutonnieres/Pergola Foliage – JP Parker Flowers | Bride/Bridesmaids/Bridesmen Bouquets – Fifty Flowers | Cake: Patricia Kirchner (Seymour, IN)  Desserts: Macarons – Stacy Able. www.stacyable.com Peanut Butter Pies – Bride. Glazed Apple Spice Cookies – Fay Pitz -Brides mom | Cake Plate: Esty thedaysisters | Guestbook: Etsy lorgieandme | DJ: Drew Storey of Premier DJs | Vintage Rentals: Violet Vintage | Tables: The Awning Guy | Wedding Day Coordinator: Bette Huddleston | Hair and Makeup: Brides sister, Megan | Invitations: Bride's design | Photography: Stacy Able Photography www.stacyable.com